Wang Suk stream, Han river branch, South Korea
48th place in Biotope Aquarium Design Contest 2017

 Republic of Korea. Seonghee Ryu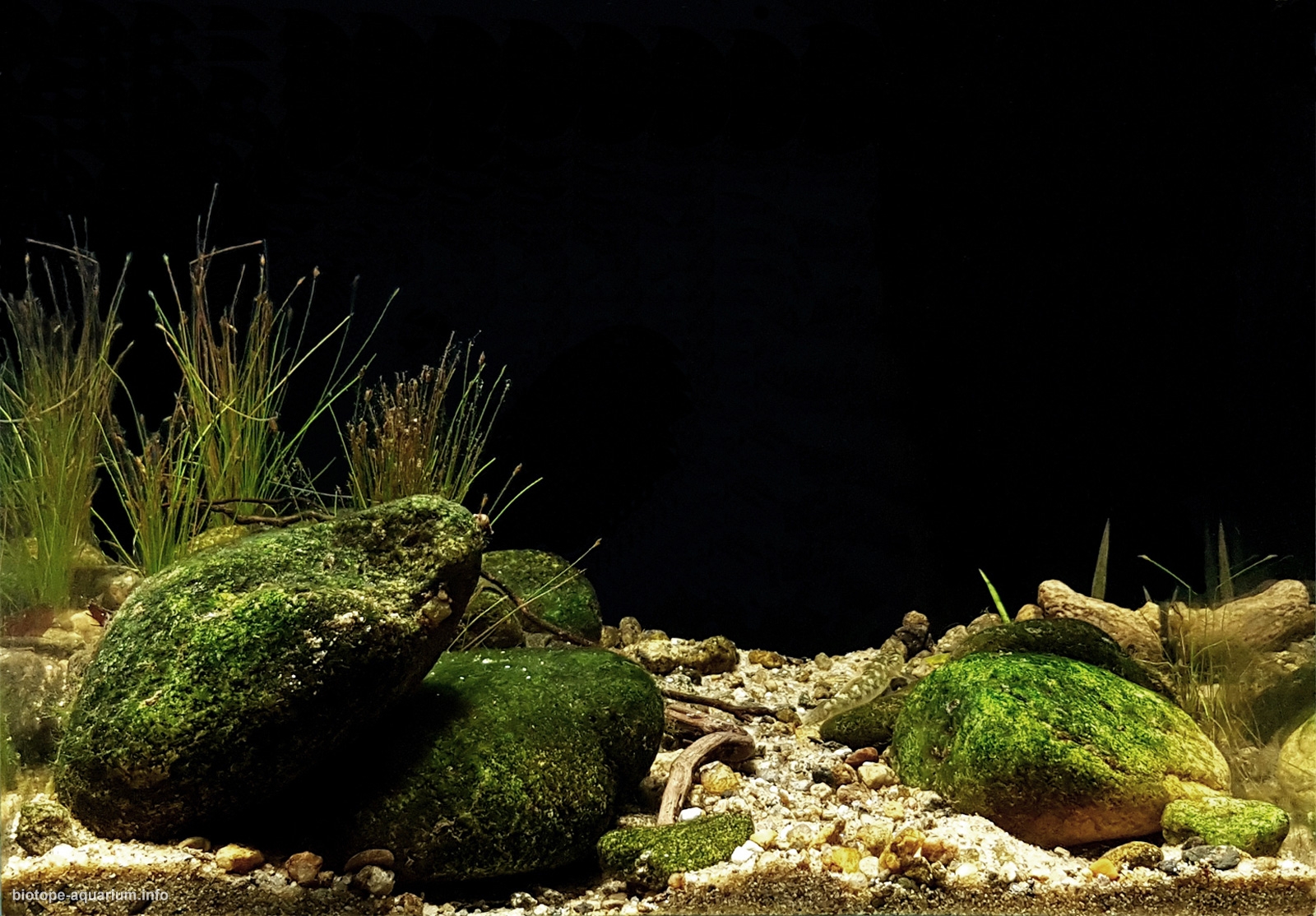 Volume: 8 L
Dimensions: 26x17x20 cm
List of fishes: Young Rhinogobius brunneus, 1 Unio douglasiae, 1 Semisulcospira gottschei (Martens)
List of plants: Eleocharis acicularis f. longiseta (Svenson) T. Koyama.
Description of decorations: Shape and color are very similar to those found in the nature biotope, because peddles, twigs, sand and inhabitants are from nature biotope.
Description of equipment: Filtered by hanging filter, activated carbon, cotton wool. 20W LED Lamp
Water parameters: Water temperature 26.8℃, pH 7.9, Electrical conductivity(㎛hos/㎝) 256, DO(㎎/L) 10.6, BOD(㎎/L) 0.8, COD(㎎/L) 2.9, T-N(㎎/L) 3.602, T-P(㎎/L) 0.049 , TOC(㎎/L) 2
Description of the area surrounding the biotope: The stream is just deep enough to get the thighs and knees wet, but waist and chest sometimes get wet in the center of bridge.  With the reason of shallow water, it's also easy to find the birds that hunt fish in the stream.
Description of the underwater landscape of the biotope: It consists of various surroundings from fine soil to peddles and rounded rocks. Some parts are swamp terrain and little branches and twigs are deposited. The exact location of this stream that I represent in this aquarium is 23-1, Gyeongchunbuk-ro 613beon-gil, Toegyewon-myeon, Namyangju-si, Gyeonggi-do
Description of the parameters of the habitat: Water quality is a little murky because many peddles with moss atr deposited by strong rays of sun. Water temperature 26.8℃, pH 7.9, Electrical conductivity(㎛hos/㎝) 256, DO(㎎/L) 10.6, BOD(㎎/L) 0.8, COD(㎎/L) 2.9, T-N(㎎/L) 3.602, T-P(㎎/L) 0.049 , TOC(㎎/L) 2
List of fishes: Easily found inhabitants of this stream are Sarcocheilichthys nigripinnis, Acheilognathus lanceolatus, Paracheilognathus rhombea, Rhodeus uyekii, Rhodeus notatus, Odontobutis interrupta, Zacco platypus, Pseudobagrus fulvidraco, Microphysogobio yaluensis, Cobitis rotundicaudata, Tridentiger brevispinis, and Rhinogobius brunneus.
List of plants: Inhabited plants are Phragmites japonica Steud., Potamogeton malaianus Miq., Vallisneria natans (Lour.) H. Hara, Trapa japonica Flerow, Myriophyllum verticillatum L., and Eleocharis acicularis f. longiseta (Svenson) T.Koyama.
Threats to the ecology: Due to the presence of "Bass" which is a dangerous species in this stream, original inhabitants are in the situation of distinction. Also, the water quality is concerned to be polluted because of irresponsible river construction and inflow of wastewater for the convenience of local residents.
Sources of information: http://water.nier.go.kr/smatMeasurement/smatMeasurementSearch.do?startYear=2017&startMonth=07&endYear=2017&endMonth=09&excelDown=N&waterLarge=&waterMiddle=&doNm=&rawDong=null&ctyNm=&keyword=%EC%99%95%EC%88%99%EC%B2%9C&pageNum=1&rowsPerPage=20&checkAll=2&selectAc=1025A42&x=40&y=6