Popular scientific magazine for aquarists
World Best Biotope Aquaria 2016
We proudly present to you the magazine entirely dedicated to biotope aquaria.
This magazine was printed in limited quantity and contains unique information about 85 biotope aquaria: beautiful illustrations, detailed descriptions of biotopes, as well as an informative article to find out main secrets of this fascinating field of the hobby.
You cannot buy the magazine 2016. 700 copies were distributed in 47 countries around the world. The magazine was most popular in Russia, Ukraine, the United States, Great Britain, the Netherlands, Germany, Indonesia, Spain, Taiwan, Canada and Norway. Some of the copies were presented as a gift to participants and jury members of the international Biotope Aquarium Design Contest 2016 and 2017, as well as to aquarists who help popularizing biotope aquaria around the world.
Unfortunately, the 2016 edition has already ended. Don't miss the opportunity to purchase magazines from 2019 and 2020.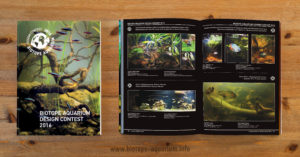 Video presentation of the magazine 2016