Yeonggang stream, Nakdong river branch, South Korea
71st place in Biotope Aquarium Design Contest 2018

 South Korea. Seonghee Ryu

Volume: 320 L
Dimensions: 150x50x45 cm
List of fishes: Tanakia koreensis, Acheilognathus majusculus, Sarcocheilichthys variegatus wakiyae, Rhinogobius brunneus, Pelodiscus sinensis, Unio douglasiae, Semisulcospira libertina
List of plants: Vallisneria natans, Eleocharis acicularis
Description of decorations: Stones, sand, trees and water plants were all collected in the area.
Description of equipment: External filter EHEIM professional 3 1200 XL (2080), subfilter amazon hw-603, LED lamps 3х30W (6000K), flow pump SOBO WP-400M 12W.
Water parameters: Temperature is 28°C, pH is 8.
INFORMATION ABOUT BIOTOPE
Description of the area surrounding the biotope: The main stream is 525.15 kilometers long. It is the longest river in South Korea. The total basin area is 23,860km2, and the main stream, which originated in Hambaeksan Mountain, flows southward and joins up with Banbyoncheon (116.1km) and other tributaries near Andong. The water level rises considerably in the summer's rainy season.
Description of the underwater landscape of the biotope: Due to slow water flow due to dam and river construction, there are many sediment and sludge. A fast-flowing area is made of large stones, and sometimes large trees are flooded. There is a longer body shape fish. Areas with large forests or slower flow rates include wider body-shaped fish, clams and aquatic insects. Small branches and leaves are deposited in areas where water is stagnant.
Description of the parameters of the habitat: Temperature is 33.5, pH is 8.2, DO(㎎/L) is 7.8, BOD(㎎/L) is 1.0, COD(㎎/L) is 4.1, SS(㎎/L) is 3.6, TN(㎎/L) is 1.999, TP(㎎/L) is 0.020, TOC)(㎎/L) is 3.
List of fishes and invertebrates occurring in the nature biotope: Acheilognathus korennsis, Acheilognathus majusculus, Sarcocheilichthys wakiyae, Rhinogobius brunneus, Trionyx sinensis, Unio douglasiae Griffith and Pidgeon, Semisulcospira libertina (Gould), Tipula KUa, Odonata, Aquarius paludum paludum (Fabricius), Muljarus japonicus (Vuillefroy), Laccotrephes japonensis, Ranatra chinensis Mayr, Hirudinea.
List of plants found in the nature biotope: Vallisneria natans (Lour.) H.Hara., Eleocharis acicularis (L.) Roem. & Schult., Hydrilla verticillata (L.f.) Royle, Acorus calamus var. angustatus, Phragmites japonica Steud.
Threats to the ecology: Reckless construction of the river and its four-river project almost destroyed the ecosystem of the Nakdonggang River. The stream is being regenerated by civic movements, but it is still difficult to see the quality of the water. Acheilognathus majusculus, which resides in the area, has been registered as an endangered species this year. And many native fish populations are threatened because of the invasive species, the Bass and Blue Path.
Sources of information:
http://water.nier.go.kr/publicMain/mainContent.do
https://terms.naver.com/entry.nhn?docId=532545&cid=46617&categoryId=46617
Comments of the members of the jury of Biotope Aquarium Design Contest 2018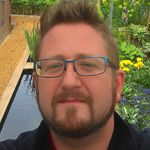 Your tank should have been bigger. It could have been an interesting combination, but I am not sure if the soft shield of the turtle can withstand the fishes if they grow. And besides that a basking area is a necessary addition.