Vyadya River, a coastal zone, Penza region, Russia
113th place in Biotope Aquarium Design Contest 2018

 Russia. Danila Bryunetkin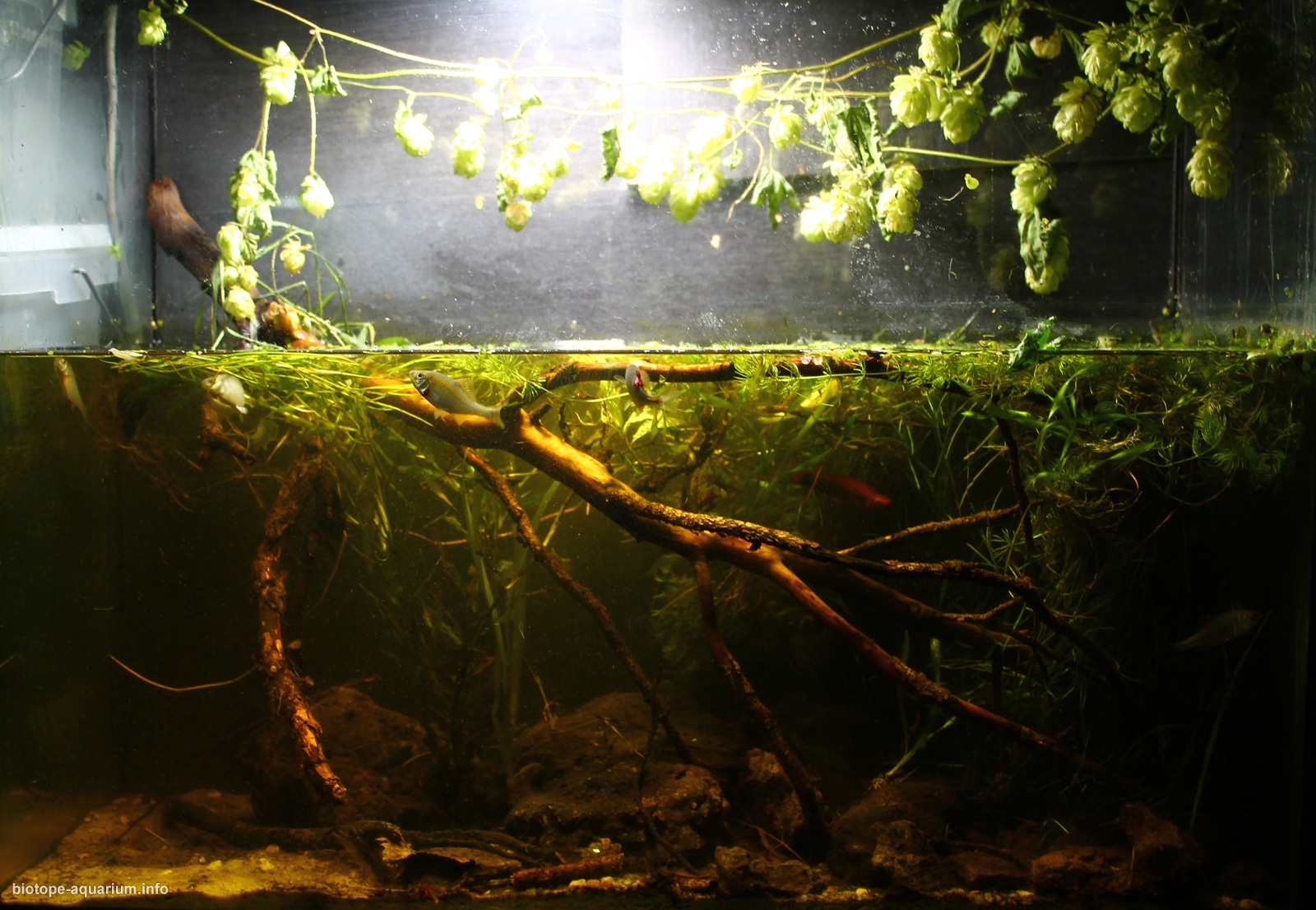 Volume: 144 L
Dimensions: 80x30x60 cm
List of fishes: Rhodeus sericeus, Trichoptera, Lymnaea stagnalis, Hydrachnidiae, Planorbidae, Physa sp.
List of plants: Potamogeton perfoliatus, Ceratophyllum sp., Lemna minor, Najas sp.
Description of decorations: All decorations are taken from the natural reservoir.
Description of equipment: circulation pump 1500 lph, air pump, Eheim Professional 4+ 250
Water parameters: Temperature is 17 degrees celsius
INFORMATION ABOUT BIOTOPE
Description of the area surrounding the biotope: Vyadya is the river in the Penza region, the right tributary of Sura River. It starts in 4 km to the north from the village of Pazelki of Bessonovsky district of the Penza region, but flows into the Sura river on the eastern outskirts of the village of Bessonovka (Bessonovsky district, Penza region). Its length is 41 km, the area of ​​the basin is 496 sq. km. The tributaries are the Inra River, the Otvel River, a river without a name near the village of Pazelki. There are many stones and driftwood on the bottom because of the fact that the river flows quite quickly, surprisingly on the bottom there are no leaves of the trees growing on the banks. Hops and coastal vegetation grow along the banks. The banks are quite high, with a small number of stones, on them there is a large number of fallen trees.
Description of the underwater landscape of the biotope: On the bottom near the dam there are sand and stones, the water is rather clear, on the banks there is a lot of aquatic plants. The water during the summer is quite cool, its temperature is 15-19 degrees. In the coastal area where there is no strong current, an aquatic plants grow, small fishes swim, and frogs sit in the thickets of sedge.
Description of the parameters of the habitat: The water is transparent, it has a temperature of 15-19 degrees Celsius in summer.
List of fishes and invertebrates occurring in the nature biotope: Rhodeus sericeus, Trichoptera, Lymnaea stagnalis, Hydrachnidia, Planorbidae, Physa.
List of plants found in the nature biotope: Potamogeton perfoliatus, Ceratophyllum, Lemna minor, Najas.
Sources of information: My own study of the biotope – https://vk.com/danilsvarogov?w=wall150465637_3373
Comments of the members of the jury of Biotope Aquarium Design Contest 2018