Upper Bhavani River, a tributary of the Kaveri River, India
28th place in Biotope Aquarium Design Contest 2016

 Ukraine. Konstantin Rodoutskiy
Aquarium Volume: 70 L
Fish and invertebrates: Devario malabaricus
Plants list: None
Biotope description: The start of Bhavani river is narrow and has a fast current. The bottom and sides of the river consist of boulders and rocks that the river gradually transforms into rounded. Because of the rapid currents and rocky bottom of the river there is almost no vegetation, except algae that cling between the stones. The vegetation is represented only on the banks, and branches of plants hang into the water. A tree fell into the river, caught on the bottom by its branches, some big stones stuck over a trunk, so the rapids were formed through which the river runs more noisily. The water is saturated with oxygen and small air bubbles are carried downstream.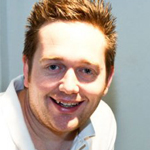 Although a bit small for the Devario situated within it, this Indian River biotope is very reminiscent for me of when I have snorkelled in rivers in the wild, and found Giant danios. Typically they hang around at the base of small waterfalls such as this, waiting to pick off any fast moving food items which float past and occasionally making exploratory forays themselves upstream to see what is up there. It definitely conjures happy memories of fish collecting for me.