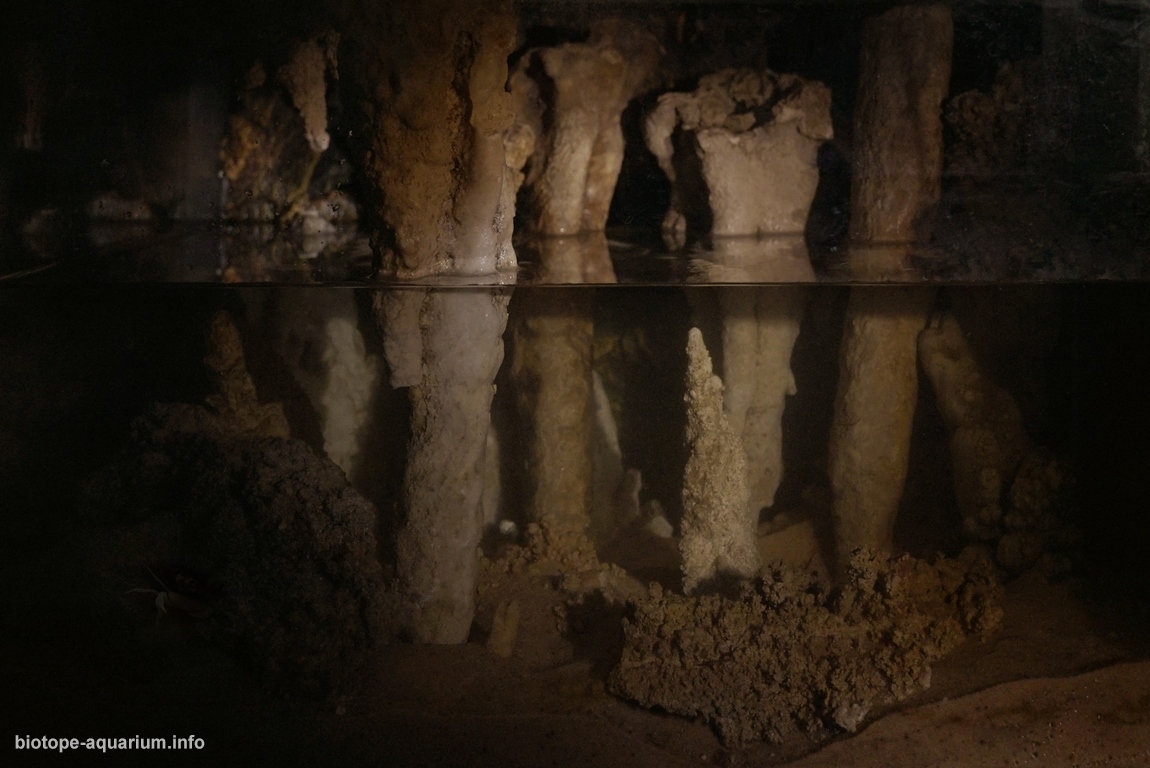 Volume: 60 L
Dimensions: 50x30x40 cm
List of fishes: Silurus cochinchinensis , Nicholsicypris normalis, Blind crab
List of plants: some brown algae
Description of decorations: Background plate: Stalactite, Stalagmite from Chongzuo, Bottom sand: the original territory of the young sand
Description of equipment: Lighting equipment: Odyssey t5, Filtration equipment: EHEIM 200A/2042
Water parameters: Water temperature: 25℃, PH 7.8
Additional info: My Chongzuo's friend told me that on rainy days, he found blind crabs in the cave connecting the underground river. I knew that cave. He had obtained Silurus and pseudocarassius auratus for me there. It was probably the water from the underground river that brought the blind crab to the cave. So I had the idea of creating an aquarium in a karst cave.
INFORMATION ABOUT BIOTOPE:
Description of the area surrounding the biotope: Chongzuo City is located in the south of the Tropic of cancer, is a subtropical monsoon climate zone, the climate is mild, abundant rainfall.Annual sunshine hours more than 1600, the average temperature in January 13.8℃, the average temperature in July 28.1℃, the average annual temperature of 20.8℃-22.4℃, the annual Frost-free period of up to more than 340 days, the annual rainfall of more than 1200 mm.The river in Chongzuo belongs to the Zuo river system.Zuojiang dry flow is 539 km long,originated in ningming County and Vietnam at the border of Kailong mountain.
Description of the underwater landscape of the biotope: –
Description of the parameters of the habitat: Chongzuo has a large number of caves, the cave I mentioned, the PH value is between 7.8-8.2, the water temperature is 15-22 degrees Celsius, the main difference is the difference between the rainy season and the dry season.
List of fishes and invertebrates occurring in the nature biotope: Silurus cochinchinensis , Nicholsicypris normalis, Blind crab
List of plants found in the nature biotope: some brown algae
Threats to the ecology: –
Sources of information: I researched it myself
Comments of the members of the jury of Biotope Aquarium Design Contest 2020