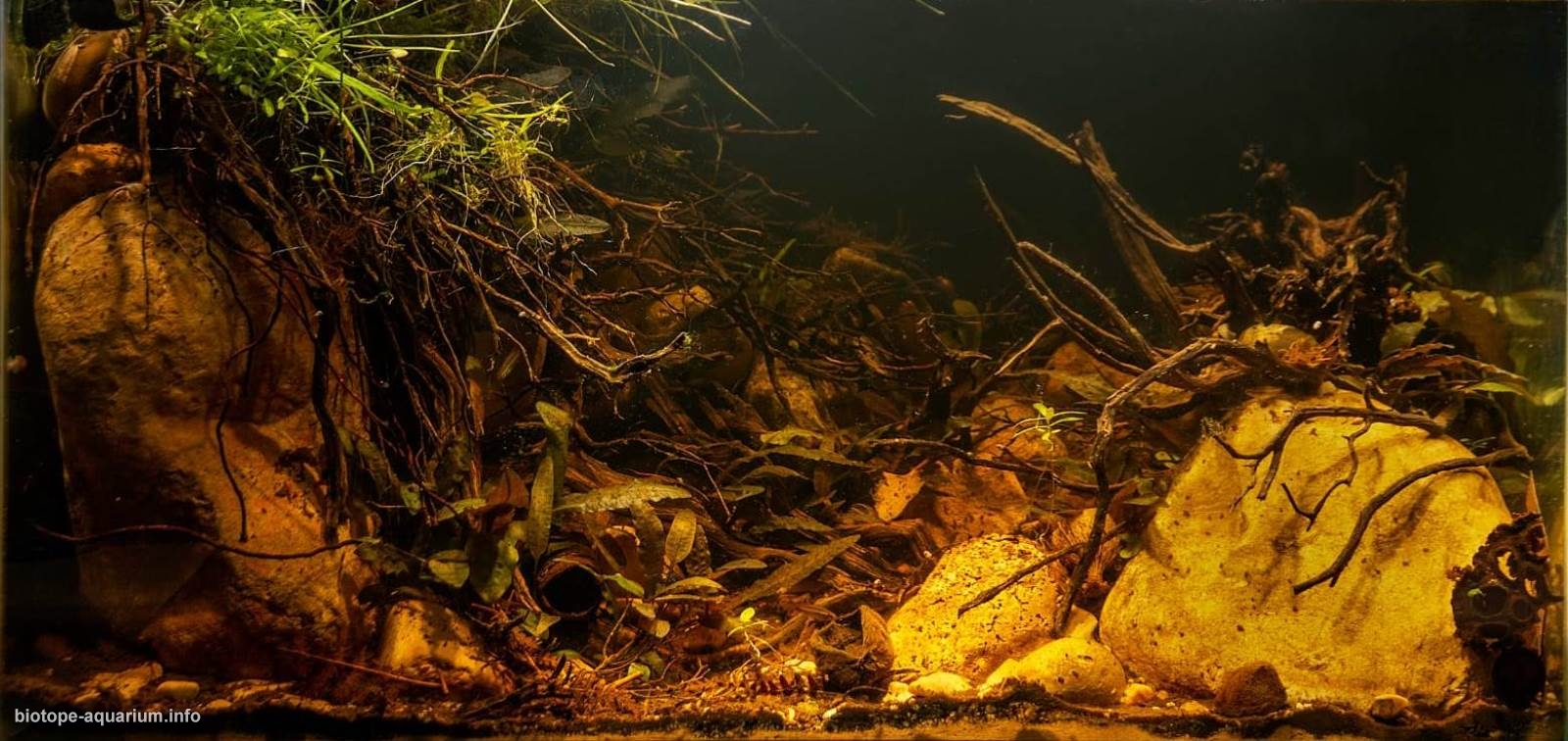 Volume: 73.5
Dimensions: 60x35x35
List of fishes: Especifico Parosprhomenus paludicola.
List of plants: Cryptocoryn Nurii, Hygrophila SP y pasto emergido en la parte superior.
Description of decorations: Esta compuesto de raíces de madera recolectada, piedra de canto rodado beige, piedra de canto rodado pequeño blanco, botánicos naturales, semillas de sterculia y campana, hojas secas y limo (turba).
Description of equipment: Oase smart 60 300 ltrs/h. Iluminacion Led Aqualighter 6500k 13w, foco LEd 4200k 8w.
Water parameters: Temperatura 25-26º, PH:6,0-6,5 GH: 2 KH: 2
Additional info: El acuario representa un tramo del río Sungai Kacung, rodeado de vegetación arbórea con mucha materia orgánica en descomposición, de corrientes lentas.
Un entorno en gran peligro de deforestacion donde encontramos también a paroprhomenus paludicola también el alto riesgo de extinción.
El acuario tiene una vista frontal que simula una visión subacuatica como observar el río submerso a contracorriente.
El acuario se montó con una cantidad de 8 Guramis Regaliz específicamente para que este acuario fuese lo más viable posible, por ello no se agregaron más peces.
INFORMATION ABOUT BIOTOPE:
Description of the area surrounding the biotope: Una zona de bosque húmedo subtropical con gran cantidad de arboles tropicales, con mucha cantidad de rocas, donde el río serpentea a través de una zona hombría del bosque. En partes de este río hay mucha actividad humana de empresas madereras y de cultivo, por lo que lo hace un entorno en gran peligro de extinción. En estos bosques se encuentra una gran cantidad de materia orgánica caída en el suelo, lo cual afecta directamente a los parámetros del entorno fluvial.
Description of the underwater landscape of the biotope: Sungai Kacung, es un río corta longitud, compuesta de roca caliza en su mayor parte, de corrientes mayormente lentas con tramos rápidos, con mucha materia orgánica en descomposición y raíces de arboles.
Description of the parameters of the habitat: El agua es oscura, con PH ácido 5,0 -5,8. Con temperaturas de 25-26º.
List of fishes and invertebrates occurring in the nature biotope: Parosprhomenus Paludicola.
List of plants found in the nature biotope: cryptocoryn Nurii, Hygrophyla SP.
Threats to the ecology: La intención de este acuario es principalmente atraer la atención del publico para que se conozca como la mano del hombre afecta a la extinción de Parosprhomenus en general y de su entorno natural. La deforestacion y el cultivo masivo son las principales causas que afectan a este entorno.
Sources of information: https://www.parosphromenus-project.org/en/
Comments of the members of the jury of Biotope Aquarium Design Contest 2020