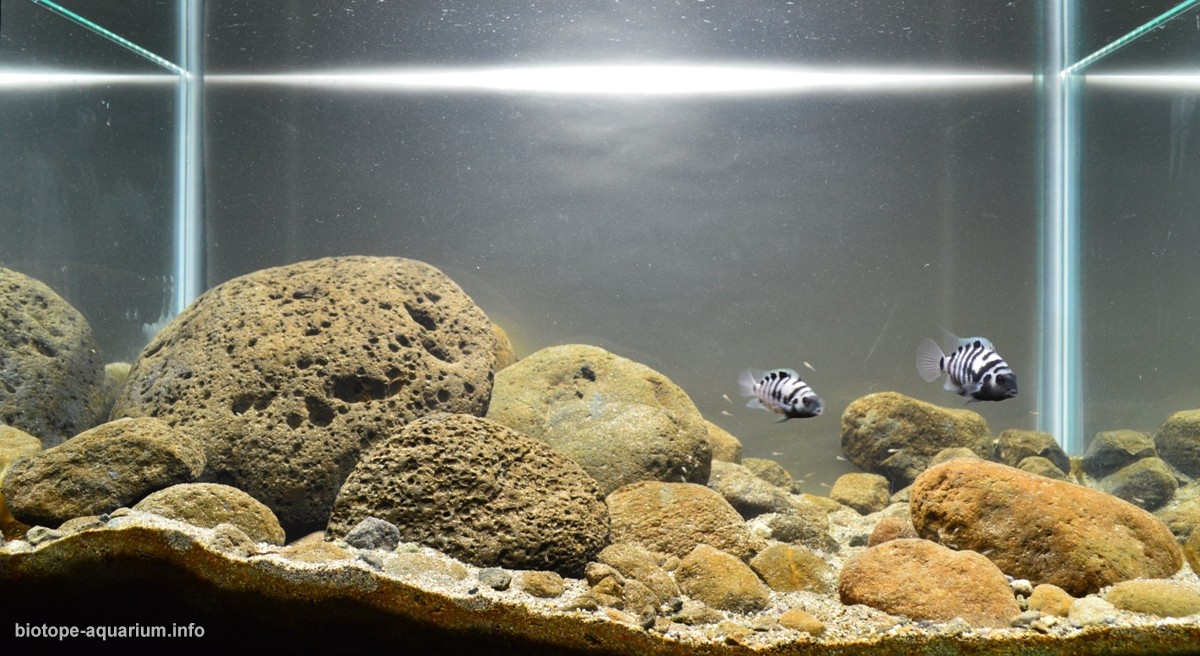 Volume: 96 L
Dimensions: 60x40x40 cm
List of fishes: Amatitlania nigrofasciata
List of plants: N/A
Description of decorations: The sand of the river mixes with the small stones of a different granulometry, size, texture, and coloration, such as black and brown stones. All of the rocks and stones utilized were collected locally.
Description of equipment: A Cascade filter brand boyu with a capacity of 400 liters/hour, a thermostat brand name JAD 100w, and a led illumination of 6,500 kelvin
Water parameters: The temperature was 27° C, with a pH7, a gH of 10.5, ammonia of 0 ppm, and nitrate of 0 ppm
Additional info: N/A
INFORMATION ABOUT BIOTOPE
Description of the area surrounding the biotope: The river Metapa is a stream that is found in the department of Escuintla, Guatemala. It sits at an altitude of 71 meters above sea level at 14°10'60" N y 90°42'0″ W. The river flows next to the river Michatoya and they both come together further downstream. By the river Metapa, you can observe two types of predominant habitats. One is the green riverside composed of diverse grasses and small trees which grow just at the edge of the river, these trees are responsible for the leaves and the logs that can be seen floating downriver. While the second is a habitat which is composed of rocks, stones, and sand of different granulometry. You can find large rocks sitting on the edge of the river and in these areas the water has better fluidity and visibility. This area of the Metapa river was the one used for the biotope aquarium.
Description of the underwater landscape of the biotope: The river flows across areas of large round rocks found on the margin of both sides of the river while at the edge of the river you can find rocks and round stones of dark colorings. The final effect is a view made up exclusively of small dark brown rocks spread around the river edge and a river bed made up of small stone and dark think sand. The speed of the river gives it certain transparency in these areas which allows you to observe the fish looking for refuge from the strong currents in between the rocks.
Description of the parameters of the habitat: I could not find information about the parameters of the habitat.
List of fishes and invertebrates occurring in the nature biotope: Amphilophus trimaculatus, Amatitlania nigrofasciata, Poecilia mexicana, poeciliopsis gracilis
List of plants found in the nature biotope: N/A
Threats to the ecology: The objective of this aquarium is to help create awareness of the contamination of the Guatemalan rivers, being the river Metapa one of the few that is yet to be contaminated but is under threat from the surrounding farms.
Sources of information: Personal testimony of Guatechichlid
es.getamap.net/mapas/guatemala/escuintla/_metapa_rio/
https://www.facebook.com/Guatecichlid/photos/a.1606913626229205/1613057762281458/?type=3&theater
https://www.facebook.com/Guatecichlid/photos/pcb.1674833666103867/1674832899437277/?type=3&theater
https://www.facebook.com/Guatecichlid/photos/pcb.1674833666103867/1674832899437277/?type=3&theater
Comments of the members of the jury of Biotope Aquarium Design Contest 2019