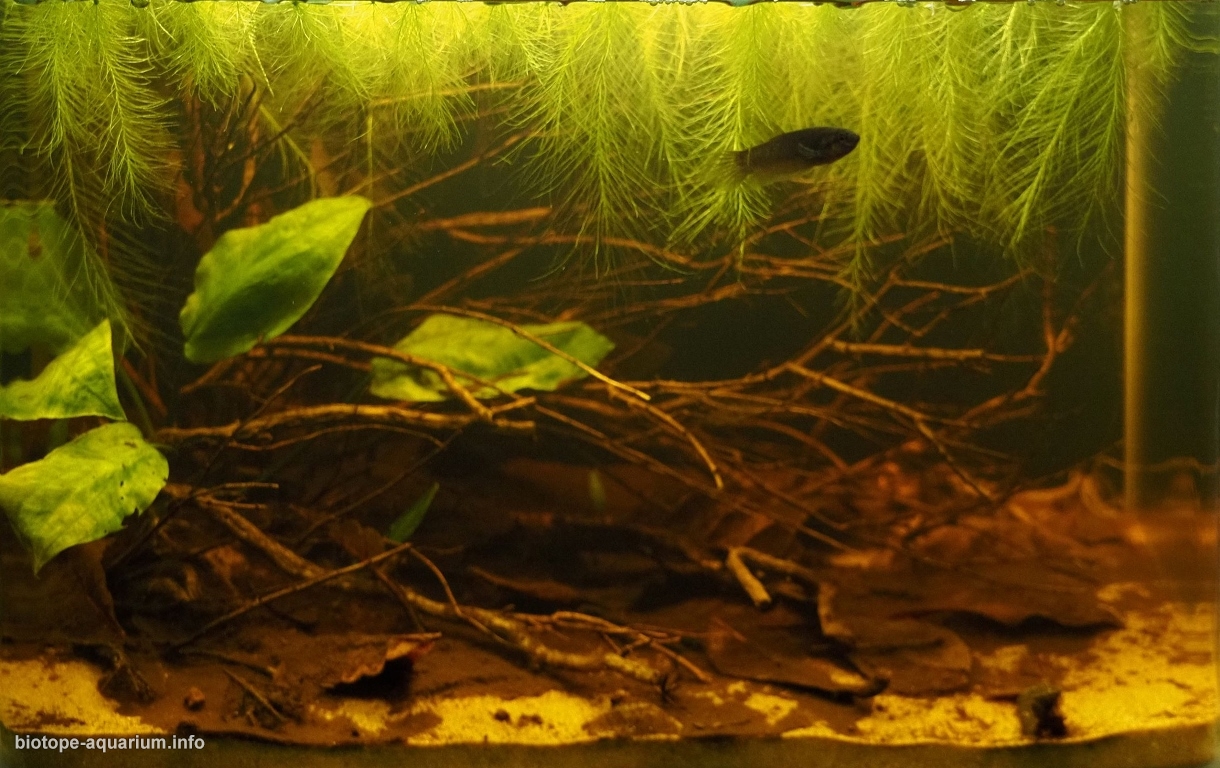 Volume: 38 liters
Dimensions: 40x30x32
List of fishes: Betta rubra pair
List of plants: Cryptocoryne pontederiifolia, Pistia stratiotes
Description of decorations: It consists of peat and brown soil laid on silica sand, dried twigs, dry leaves and planted plants. The materials used are similar to that of the biotope.
Description of equipment: Sunsun brand waterfall filter 400 / hour, 75 watt heater, 16 watt 6500k smd led lighting
Water parameters: 25 ° C temperature, 0-1 KH, 50 microsiemens conductivity, 5.8 pH
Additional info: Their routine maintenance is done weekly. 20% water change. Peat was used to stain the water tannin.
INFORMATION ABOUT BIOTOPE:
Description of the area surrounding the biotope: The Simpang-kanan River (Indonesian: Sungai Simpangkanan, meaning: Right Junction River) is a river north of Sumatra, Indonesia, about 1400 km northwest of the capital Jakarta.
The river flows in the northern region of Sumatra with predominantly tropical rainforest climate (denoted as Af in the Köppen-Geiger climate classification). [Annual average temperature in the region is 23 ° C. The hottest month is February, when the average temperature is around 25 ° C, and the coldest month is April with 22 ° C. Annual average rainfall is 3355 mm. The wettest month is December with an average of 463 mm of rainfall and the driest month is June with 125 mm of rainfall.
Small streams flowing in the Singkil area are peat bogs. Carbonate hardness and general hardness are almost nonexistent. The pH varies between 5.5-6.5.
Description of the underwater landscape of the biotope: It is a peat bog region. The ground is fine and light-colored sand, Cryptocoryne pontederiifolia plant, some terrestrial plants, driftwood and leaf debris. The waters are rich in tannins and feature blackwater.
Description of the parameters of the habitat: The water is blackwater color. Kh and Gh are quite low (0-1 / 1-2). pH 5.5 was measured. Tds 0-40. 23-25 ° C The temperature is variable according to the season..
List of fishes and invertebrates occurring in the nature biotope: Only Betta rubra type was seen in the region.
List of plants found in the nature biotope: Cryptocoryne pontederiifolia (endemic), Pistia stratiotes (cosmopolitan)
Threats to the ecology: Many species' natural habitats are threatened by the expansion of palm oil fields, farmland and wild deforestation. Lead poisoning from battery recycling facilities is also a problem in many habitats in Indonesia and affects fish, plants and humans (National Geographic, The Toxic Toll of Indonesia's Battery Recyclers, 31 May 2016).
Sources of information:
Jurnal Kesehatan Lingkungan Indonesia, Anwar Mallongi, Ruslan La Ane, Agus Bintara Birawida, October 2017
Perugia, A., 1893 – Annali del Museo Civico di Storia Naturale di Genova, Serie 2a v. 13: 241-247
Sumatra dal Dott'ta Di alcuni pesci raccolti. Elio Modigliani.
Comments of the members of the jury of Biotope Aquarium Design Contest 2020