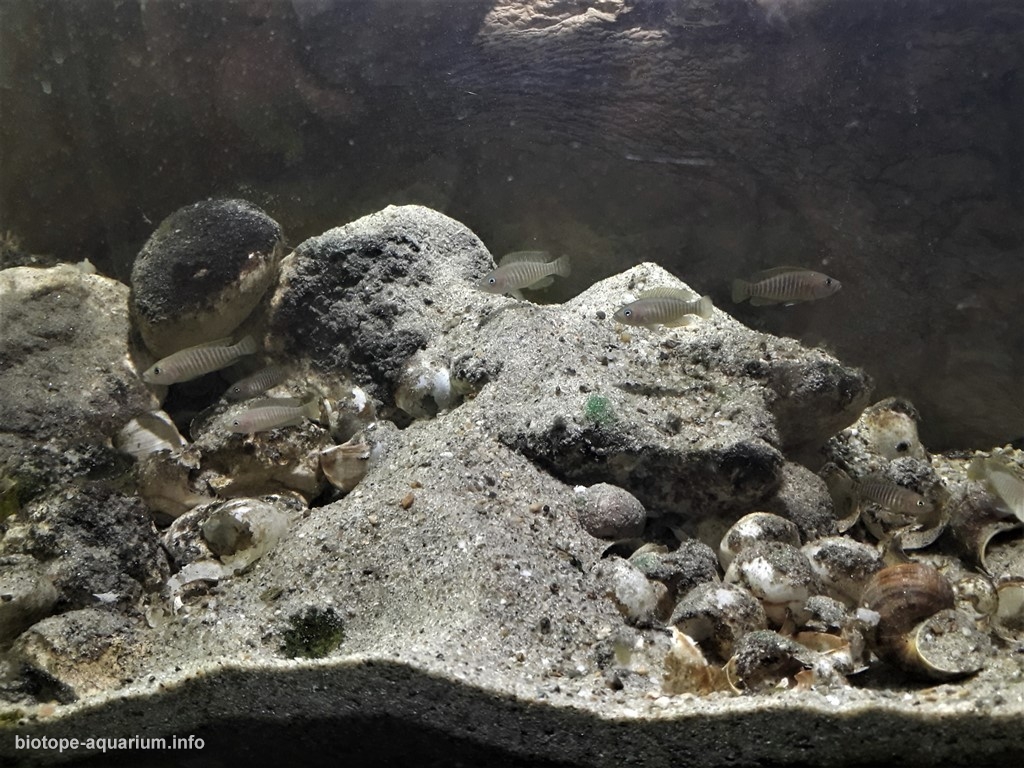 Volume: 83l
Dimensions: 65x30x30
List of fishes: Neolamprologus multifasciatus
List of plants: No are plants.
Description of decorations: Fine sand, many stones and several snail shells
Description of equipment: Led lamp 11w -Dennerle, filtru intern Aquel 300l
Water parameters: Temperatura is 26 C, ph 8,5, 17 dh
Additional info: No informations
INFORMATION ABOUT BIOTOPE:
Description of the area surrounding the biotope: Lake Tanganyika is the largest of the three large lakes of the African Rift Valley, with a surface area of 32.600 km², with 673 km of length, 72 km in it´s widest point and with a coastline of 1,828 km. Its the second largest freshwater lake in the world by volume and the second deepest after lake Baikal in Siberia, with 1470m. and an average depth of 570m.
The lake is surrounded by four countries; Burundi in the Northeast, Democratic Republic of the Congo in the West, Tanzania in the East and Zambia in the South, forming a surface of 231.000 Km². Nearly one-sixth of the world's freshwater is located on Lake Tanganyika. The lake is an important freshwater resource for people living in its vicinity.
The lake contains at least 250 species of cichlid fish (Cichlidae) and 150 other species of non-cichlid fish, most of which live on the shore of the lake, at a depth of 180 m. The lake is also an important site of study on the evolution of species. Almost all (90%) of the cichlid species of Tanganyika are endemic to the lake. This high degree of endemic species also occurs with many lake invertebrates, such as molluscs, crabs, copepods, shrimp, jellyfish, leeches, etc.
Nkumbula Island (Nkumbula Island) is a island (class T – Hypsographic) in Northern Province (Northern), Zambia (Africa) with the region font code of Africa/Middle East. It is located at an elevation of 764 meters above sea level.
Nkumbula Island is also known as Kumbula Island, Nkumbula Island.
Its coordinates are 8°45'0″ S and 31°6'0″ E in DMS (Degrees Minutes Seconds) or -8.75 and 31.1 (in decimal degrees). Its UTM position is TR93 and its Joint Operation Graphics reference is SC36-01.
Current local time is 23:08; the sun rises at 08:56 and sets at 21:03 local time (Africa/Lusaka UTC/GMT+2). The standard time zone for Nkumbula Island is UTC/GMT+2
In 2020 DST starts on – and ends on -.
Description of the underwater landscape of the biotope: Nkumbula is one of the few rocky areas where N. multifasciatus is present. Among the rocks and at their base are a lot of snail shells N. tanganyikanus, an environment conducive to the smallest cichlid. According to some ichthyologists, it would be the first place where N multifasciatus was discovered
Description of the parameters of the habitat: The water in Lake Tanganyika is alkaline, with a pH between 8.5 – 9.0 depending on the depth and alkalinity surrounding the 650µS. The water temperature of the lake is very stable, due to the large body of water. The surface temperature of Lake Tanganyika ranges from 23-27°C, and the hypolimnion temperatura ranges from 23–24°C, although most fish inhabit areas with a temperature of 24-27°C.
List of fishes and invertebrates occurring in the nature biotope: Lots of species of Lamprologus, Neolamprologus, Lepidiolamprologus, Telmatochromis, Xenotilapia, etc. Many of these appear here with the 2 forms, the large rock and the small shell dweler.
List of plants found in the nature biotope: No higher plants are found in places with N. multifasciatus
Threats to the ecology: –
Sources of information: Destination Tanganyika.
Many articles found on the internet
Comments of the members of the jury of Biotope Aquarium Design Contest 2020