Mountain creek near Lijiang river in Zhejiang provinces
67th place in Biotope Aquarium Design Contest 2016

 Poland. Dominik Woroch
Aquarium Volume: 20 L
Fish and invertebrates: Neocaridina heteropoda Schoko
Plants list: Cladophora algae, Microsorum pteropus
Biotope description: The aquarium was set up based on a biotope of mountain creek near Lijiang river in Zhejiang province. Zhejiang is an eastern coastal province of China. Water in this creek has fast flow and may be relatively cool(10-15 degrees centigrade at winter), very clear , hard, pH is high(7-8). Foundation, mostly sandy and rocky, in some places gather fallen leaves. Due to the strong current, the plant is quite a few, algae predominate. Level of water in the creek varies during the year. Beside shrimp in the stream can be found fish like: Planorbis planorbis, Tanichthys albonubes, Cyprinidae sp., Stiphdon sp.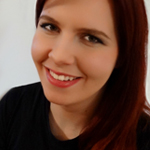 This aquarium is represented better in video than in photos. Because it is only 20 liter, it is good call to use only shrimp. Too bad they are not in wild form.