Lake Tanganyika, Ndole Bay, Zambia
52nd place in Biotope Aquarium Design Contest 2016

 Argentina. Walter Vazquez
Aquarium Volume: 200 L
Fish and invertebrates: Neolamprologus ocellatus "Gold"
Plants list: None
Biotope description: Sandy area with bed of snail shells 200mts. the coast of the Bay of Ndole in Zambia, Lake Tanganyika in the Great Rift Valley in Africa. Inhabited by shell-dwelling cichlids.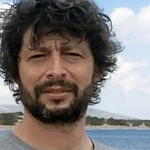 This entry is a special in the contest. It causes interesting emotions in me. I always sit and wait when the fish appears. I do not know whether the aquarium takes some prize, but I like it very much. It is kind of Zen. I love such things. It is interesting that the description of the aquarium corresponds to the entry in terms of brevity. On my computer it takes exactly one line. Seriously, this aquarium is done very competently. This is a real biotope. Not every biotope can be like the Amazonian forest. There are also biotopes like this one. And it is very realistic. I am not sure that this entry will take some prize. But it touches me. I put it in the top ten.