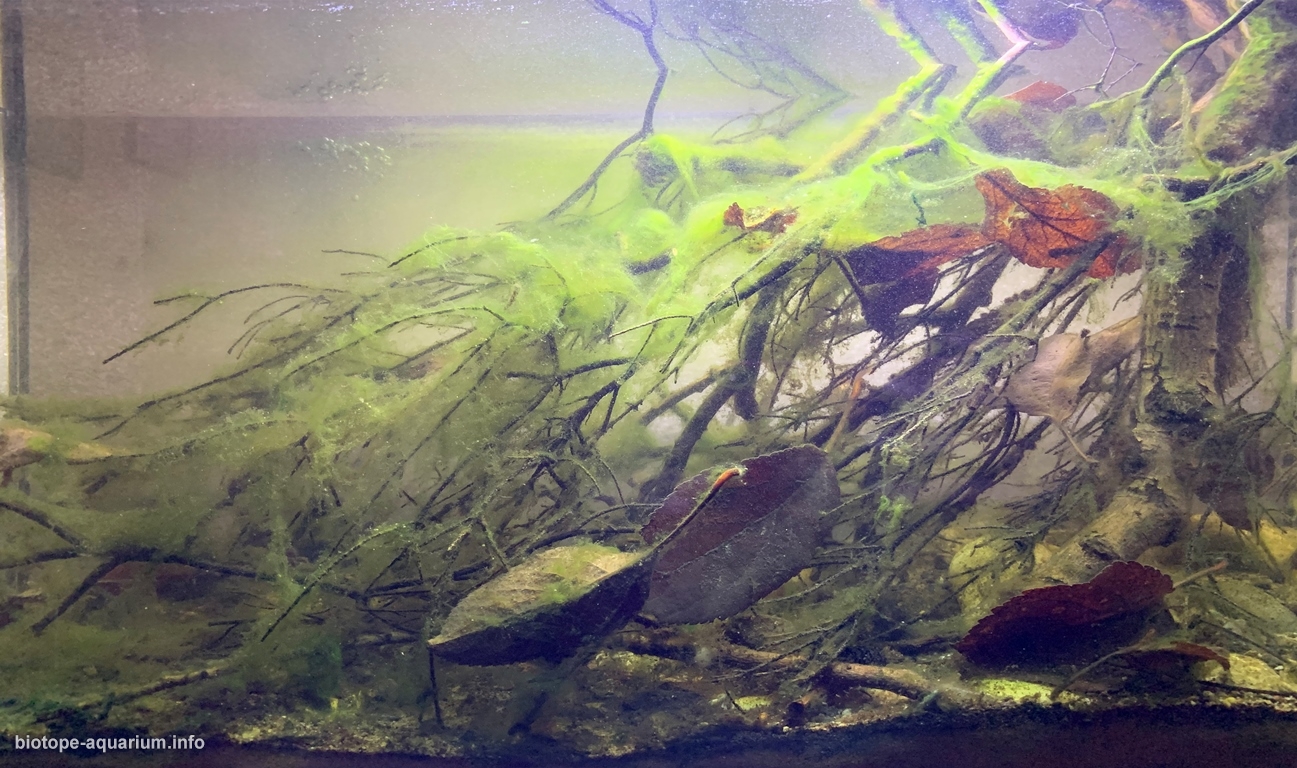 Volume: 30 liter
Dimensions: 50x20x30
List of fishes: Puntius titteya
List of plants: Naturally occurring algae
Description of decorations: Consisting of a mixture of silica sand and fine gravel, the substrate base material was formed similar to the biotope in nature. Leaves, small rocks and small branches are scattered on this plinth. The final form of the design emerged with the driftwood.
Description of equipment: An internal filter with 5w power enough to convert 30 liters, 6500k 12 watt led lamp system, 50watt heater.
Water parameters: temperature 24 ° C, pH 7.2, gh 12
Additional info: Weekly routine 15% water change and basic maintenance was done.
INFORMATION ABOUT BIOTOPE:
Description of the area surrounding the biotope: Kalu Ganga (Sinhala: කළු ගඟ; literally: Black River) is a river in Sri Lanka. The 129 km (80 miles) long river originates from Sri Padhaya and reaches the sea at Kalutara. The Black River flows through Ratnapura and Kalutara County and pass through the city of Ratnapura. Mountainous forests and Sinharaja Forest Reserve in the Central Province are the main water resources of the river.
The Kalu Ganga basin is one of Sri Lanka's most important river basins with very high rainfall and higher discharges. Due to its hydrological and topographic characteristics, the lower flood plain suffers from frequent floods and greatly affects the socio-economic profile. Over the past few years, many researchers have investigated the climate changes of the country's main river basins, but no studies have been conducted on climate changes in the Kalu Ganga basin. Therefore, the purpose of this study is to examine precipitation trends in Kalu Ganga basin. Annual and monthly precipitation trends were determined with the Mann-Kendall statistical test. Negative annual precipitation trends were found at all analyzed precipitation measurement stations. On average, -0. With the annual rainfall drop, 98 trends were found at 12.03 mm / year. Strong downward trends were observed in April and August. July and November showed strong increasing trends. As a result, there is an annual downward trend of precipitation throughout the Kalu Ganga basin and it is clear that minor climate changes may have affected the magnitude and timing of precipitation in the study area.
Description of the underwater landscape of the biotope: It is small and low flow. The base of the stream consists of fine sand, gravel and rocks. There is wood carried by rain and flood waters and leaves falling to the bottom. Some moss and algae varieties are seen.
Description of the parameters of the habitat: Since the sample area is in a forested area above 1200 meters, its waters are cool. It has 22-28 ° C, 6.5-7.9 pH, 100-250 TDS water parameters annually. It appears brownish, sometimes freshwater during heavy flood periods.
List of fishes and invertebrates occurring in the nature biotope: Puntius titteya, Pethia nigofasciata, Puntius flamentosus, Pethia conchonius, Puntius tetrazona and some Danio species
List of plants found in the nature biotope: Plants: Some types of cryptocoryne and moss
Threats to the ecology: Global warming, landslides due to heavy rainfall, dams and mining activities threaten the river basin.
Sources of information:
https://en.wikipedia.org/wiki/Kalu_Ganga
https://openjicareport.jica.go.jp/pdf/11931946_02.pdf
https://www.tandfonline.com/doi/full/10.1080/02626667.2017.1381965
Comments of the members of the jury of Biotope Aquarium Design Contest 2020