Inundated area in the Indragiri Basin, Sumatra
7th place in Biotope Aquarium Design Contest 2016

 Belgium. Jeroen Vanhooren
Aquarium Volume: 700 L
Fish and invertebrates: Chromobotia macracanthus, Trichopodus leerii
Plants list: Cryptocoryne sp.
Biotope description: This aquarium simulates an inundated area of the Indragiri-basin in Sumatra. In the Western part of Sumatra there lays the Barisan range. Further east alluvial plains are formed by the larger rivers like Indragiri. The soil in this area is highly acidic and non-fertile (peat forrest). The water parameters in these inundated areas hence are very soft and acidic.
Plant life is restricted to Cryptocoryne Indragiri schulzei, Cryptocoryne bullosa var. Scrullis and Ceratopteris thalictroides. Cryptocoryne species that thrive on these conditions are not easy to maintain in a permanently aquarium environment, so I chose to use commercial Cryptocoryne bullosa. During wet season, the adult Chromobotia macracanthus migrate from the main river to smaller upstream systems, to spawn. The juveniles stay in the floodplains for a few months, while the large ones go back to the main river. During this time of the year there is a possibility that Chromobotia meet Trichopodus leeri (and lots of other commercially available fish). In this tank lighting is dimmed by overhanging forrest canopy. At the right side leaves, twigs and branches give the tank a more natural feel and add tannins and brown colour to the water and provide shade. At the left side patches of Cryptocoryne grow in the submerse form. Fishes like Chromobotia and Trichopodus leerii feel extremely comfortable in these conditions. They are very active and behave naturally. Sadly enough habitat loss due to palm oil plantation (especially for the Tricopodus leerii) is massive. They are already marked as "near threatened" in the IUCN Red List.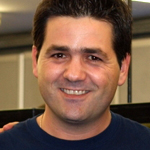 It is an awesome biotope aquarium. That tank gives you the feeling of naturalness, a real bank of this area, fishes, plants and materials correct to the biotope. This is a biotope aquarium example to follow.
Huge tank just I like!! I think that is too important choose correctly the size of the tank according the biotope chosen. In this layout the Natural scene is very precise and the fishes are very comfortable there. Good job.