Guerrero stream, Uruguay River basin, Misiones, Argentina
82nd place in Biotope Aquarium Design Contest 2018

 Argentina. Philip Cortesi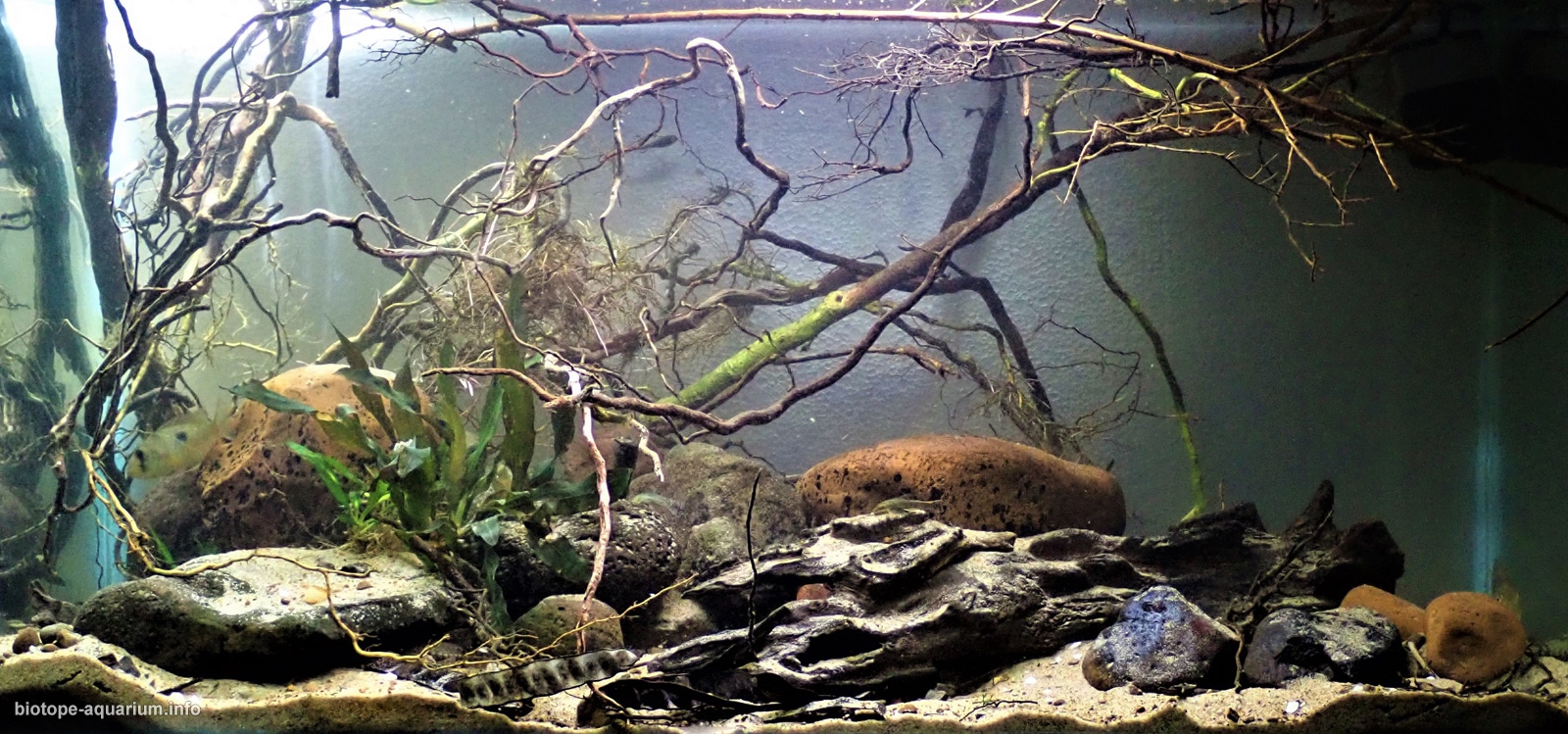 Volume: 160 L
Dimensions: 80x40x50 cm
List of fishes: Gymnogeophagus lipokarenos, Ancistrus sp. "Guerrero", Rineloricaria microlepidogaster, Hisonotus aky
List of plants: Echinodorus uruguayensis, Phyllanthus sellowianus, Podostemaceae
Description of decorations: Sandy and rocky bottom/ground. Some endemic basaltic stones (high in minerals) and some endemic stones in reddish coloration. Pieces of driftwood and a lot of living aquatic bush (Phyllanthus sellowianusn). Echinodorus uruguayensis as in nature usual in this type of biotop.
Description of equipment: 1 x Atman 1200 l/h, 1 Juwel 600 l/h BioFlow, 100W Juwel heater, 3 x 10W LED light.
Water parameters: Temp. = 27º in summer, 24º in winter (no heater); PH 7.6, KH = less than 1, GH = less than 1.
INFORMATION ABOUT BIOTOPE
Description of the area surrounding the biotope: The Arroyo (= creek in Spanish) Guerreo (= fighter in Spanish) is an important tributary of the Uruguay River. It is located in Misiones, northeast province/state of Argentina in South America. Surrounded by dense subtropical jungle the biotope is an important source for many life. Insects, amphibians, reptiles, mammals and many birds life in harmony with the stream. (See sources; ecoregistros.org). Big trees, networked bushes, bamboo and many other plants strengthen the borders with their roots. There is an important endemic creek bush (Phyllanthus sellowianusn, ) anywhere where stones and soil overlap the water level. The root of this plant network strongly in the water.
Description of the underwater landscape of the biotope: In spring, the water level is low to middle (depending of rain). 2018 is dry and the temperatures of the water is around the 23 – 25 degrees. The water is clear and the flow at some areas is slow. Many fish started to spawn, including some of the many cichlids that are endemic in Misiones. The river has a steep gradient from its source to the tributary (Uruguay River). Stones and driftwood draw the underwater landscape. The ground is sandy to stony with strong differences depending to the current. The creek is abundant in small, medium and some big fishes. Aquatic invertebrates are anywhere, especially under the stones hiding from depurators and sunlight.
Description of the parameters of the habitat: Temp. = 26º in summer, 21º in winter ; PH 7.8, KH = less than 1, GH = less than 1. (measured by Hobby Water Test).
List of fishes and invertebrates occurring in the nature biotope: Australoheros ykeregua (Říčan, Piálek, Almirón & Casciotta, 2011), Gymnogeophagus lipokarenos (Malabarba, Malabarba & Reis, 2015), Gymnogeophagus meridionalis (R. Malabarba, M. Malabarba & Reis, 2015), Crenicichla missioneira (Lucena & Kullander, 1992), Cyanocharax uruguayensis (Messner, 1962), Astyanax dissimilis (Baumgartner et al., 2012),
Oligosarcus amome (Almirón et al., 2015), Astyanax paris (Azpelicueta, Almirón & Casciotta, 2002), Astyanax sp.,
Ancisturs sp., Rinoloriaciar misioneira (Rodriguez y Miquelarena, 2005), Rineloricaria microlepidogaster (Regan, 1904), Hisonotus aky (Azpelicueta, Casciotta, Almirón & Körber, 2004), Hoplias sp., Synbranchus sp., Pimelodus mustelinus (Valenciennes, 1835), Aegla platensis (Schmitt, 1942), Trichodactylus Kensleyi (Rodríguez, 1992), Dytiscidae sp. (larva), Trichoptera sp. (larva).
List of plants found in the nature biotope: Echinodorus uruguayensis (Rataj 1970) (abundant), Podostemum sp., Marchantia polymorpha and mosses (mostly submerged on soil rocks).
Threats to the ecology: Unfortunately, in Misiones every year a great deal of underwater life is eradicated by forest logging and agriculture. Native jungle, "monte" in local Spanish, disappears day per day. Sewage drainage into natural water systems and uncontrolled waste are also on the top of the threats in Misiones. Every summer thousands of inhabitants visit the rivers and pollute the whole environment with their garbage. There is no waste policy from the government. Especially the area of this biotope is badly affected by deforestation and tobacco cultivation. Both factors are among the strongest threats to the local water world.
Sources of information: CLOFFAR – update 3
Ichthyological Contributions of PecesCriollos 47
https://media.hotelwebservice.com/media/pecescriollos/docs/icp_47_-_koerber_et_al_2017_cloffar_-_update_3.pdf
Peces Criollos (Website)
http://www.pecescriollos.de/go/home/lang=EN
http://www.pecescriollos.de/de/gymnogeophagus-lipokarenos-first-record-from-argentina
http://www.ciclidosonline.com.ar/Paginas/Especies%20-%20Gymnogeophagus%20meridionalis.htm
Cuencas y principales subcuencas de la Provincia de Misiones,
https://www.researchgate.net/figure/Cuencas-y-principales-subcuencas-de-la-Provincia-de-Misiones-con-indicacion-de-los_fig1_263465780
Guìa de los Peces del Parque Nacional PRE-DELTA, https://sib.gob.ar/archivos/bfa004429.pdf
La familia Cichlidae en Argentina, Distribución Geográfica, Provincia de Misiones
http://www.ciclidosonline.com.ar/Paginas/Distribucion%20Geografica%20-%20Provincia%20de%20Misiones.htm
Sistema de Información de Biodiversidad (2018, Website)
https://sib.gob.ar/ficha/ANIMALIA*crenicichla*gaucho
https://sib.gob.ar/ficha/ANIMALIA*crenicichla*missioneira
https://sib.gob.ar/#!/especie/gymnogeophagus-meridionalis
https://sib.gob.ar/#!/especie/rineloricaria-misionera
Ecoregistros.org (Argentina)
http://www.ecoregistros.org/site/provincia.php?id=14
Hisonotus aky (Azpelicueta, Casciotta, Almirón & Koerber, 2004)
https://www.researchgate.net/publication/272942810_A_new_species_of_Otothyrini_Siluriformes_Loricariidae_Hypoptopomatinae_from_the_Rio_Uruguay_basin_Argentina
The Crenicichla (Teleostei: Cichlidae) species of the Uruguai River drainage in Brazil,
https://www.researchgate.net/publication/281605595
Insectos Acuáticos. L. Buffa. Cátedra de Entomología. Fac. Cs. Ex. Fís. y Nat. UNC
http://www.efn.uncor.edu/departamentos/divbioeco/entomo/acuaticos.pdf
A new species of Otothyrini (Siluriformes: Loricariidae: Hypoptopomatinae) from the Río Uruguay basin, Argentina
https://www.researchgate.net/publication/272942810
Nove espécies novas do gênero Rineloricaria (Siluriformes, Loricariidae) do rio Uruguai, do sul do Brasil
http://www.scielo.br/pdf/isz/v98n1/a14v98n1
Taxonomic Review of Rineloricaria (Loricariidae: Loricariinae) from the Laguna dos Patos Drainage,Southern Brazil, with the Descriptions of Two New Speciesand the Recognition of Two Species Groups
https://www.researchgate.net/publication/240775623_Taxonomic_Review_of_Rineloricaria_Loricariidae_Loricariinae_from_the_Laguna_dos_Patos_Drainage_Southern_Brazil_with_the_Descriptions_of_Two_New_Species_and_the_Recognition_of_Two_Species_Groups
http://www.ecologia.misiones.gov.ar/ecoweb/index.php/descripcion-general-biodiversidad/departamento-de-fauna/vertebrados-de-misiones
Review: The Atlantic Forest of South America: Biodiversity Status, Threats, and Outlook
https://escholarship.org/content/qt56k6w49n/qt56k6w49n.pdf
Weed Risk Assessment for Echinodorus uruguayensis Arechav. (Alismataceae) – Uruguay sword plant
https://www.aphis.usda.gov/plant_health/plant_pest_info/weeds/downloads/wra/Echinodorus_uruguayensis_WRA.pdf
PROYECTO: "PROPAGACIÓN CLONAL DEL SARANDÍ HISTÓRICO"
http://www.agro.misiones.gov.ar/web/documents/42128/69335/GUIA+DIDACTICA+PROPAGACION+SARANDI.pdf/563a4de5-214e-487a-9c94-a157e19b2573
El volcanismo de Serra Geral en la provincia de Misiones: aspectos geoquímicos e interpretación de su génesis en el contexto de la Gran Provincia Ígnea Paraná-Etendeka-Angola. Su relación con el volcanismo alcalino de Córdoba (Argentina)
http://www.scielo.org.ar/scielo.php?script=sci_arttext&pid=S1852-77442011000100003
REVISION OF THE NEOTROPICAL CICHLID GENUS GYMNOGEOPHAGUS RIBEIRO, 1918, WITH DESCRIPTIONS OF TWO NEW SPECIES (PISCES, PERCIFORMES)
http://www.scielo.br/pdf/rbzool/v4n4/v4n4a02
Comments of the members of the jury of Biotope Aquarium Design Contest 2018