Forest stream in the south-western part of Sri Lanka
The 46th place in the qualifying stage of the Biotope Aquarium Design Contest 2015

 Russia. Maxim Chernyshov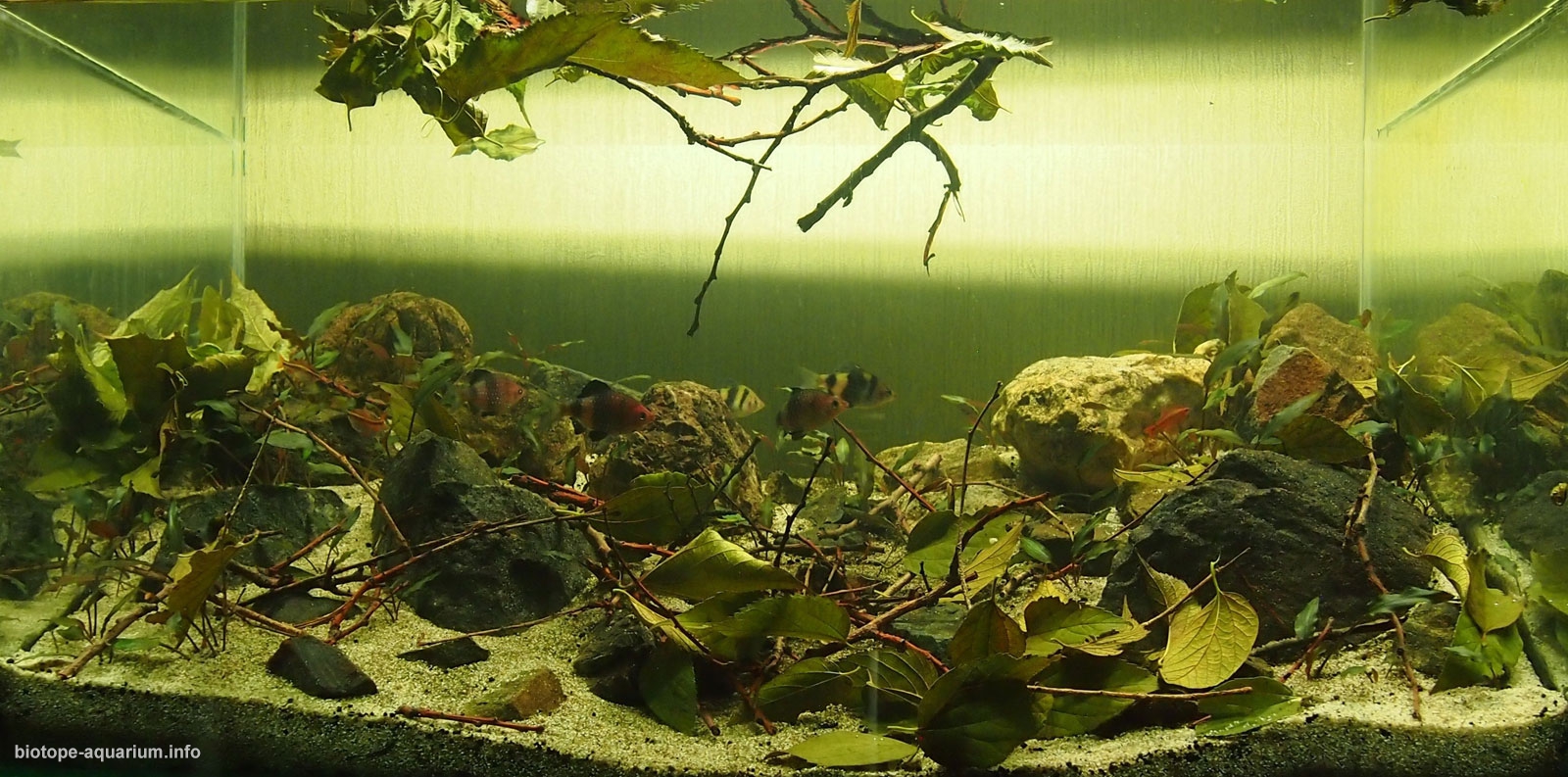 Volume: 160 L
List of fishes: Pethia nigrofasciata, Puntius titteya , Mystus vittatus
List of plants: Cryptocoryne beckettii
Biotope description: In the aquarium there is a forest stream of south-western "wet zone" of Sri Lanka. There are river systems here such as Kelani and Nilwala, as well as many rivers in between. Water may be relatively cool, clear to slightly stained, soft, pH is typically low. Macrophytes are rare in such streams, but dense thickets of coastal vegetation can occur, sometimes overhanging the entire width of the flow. Bottom, mostly sandy, is covered with a layer of fallen leaves and branches. In the south-western part of Sri Lanka there are following fish species: Rasboroides vaterifloris, Puntius bimaculatus, P. kelumi, Pethia nigrofasciata, Puntius titteya, Dawkinsia singhala, Schistura notostigma, Mystus vittatus, Aplocheilus werneri, Channa orientalis, Malpulutta kretseri, and Mastacembelus armatus. Plants: Aponogeton rigidifolius, Cryptocoryne alba, Cryptocoryne beckettii, Cryptocoryne bogneri, Cryptocoryne thwaitesii, Cryptocoryne walkeri, Cryptocoryne waseri, Lagenandra praetermissa, Lagenandra ovata.