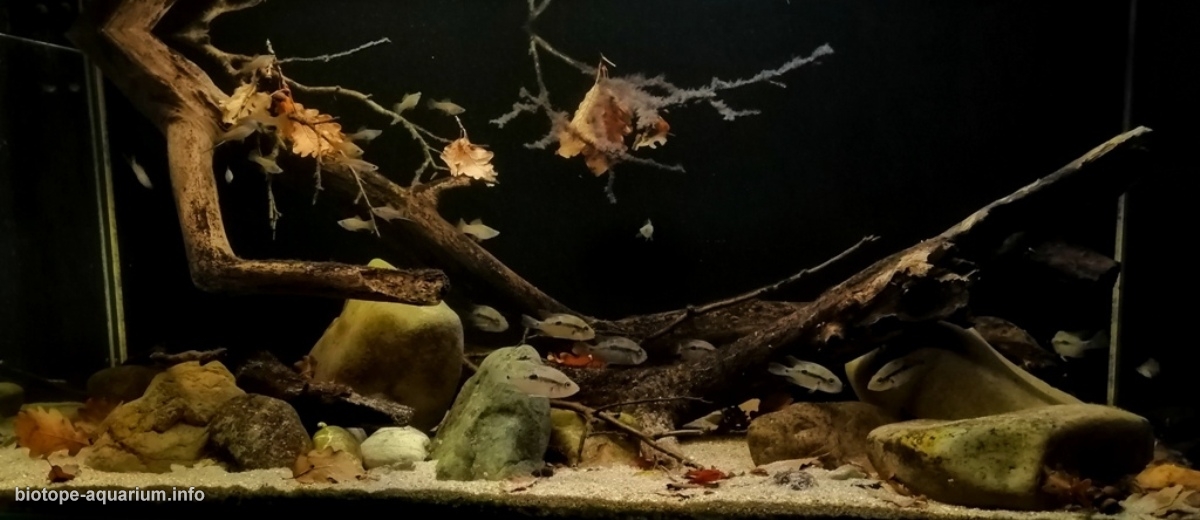 Volume: 465 L
Dimensions: 134x57x60 cm
List of fishes: Xiphophorus Helleri, Cribroheros Robertsoni
List of plants: n/a
Description of decorations: Aquarium substrate is based on fine river sand mixed with gravel for more natural look of river bottom, various branches and twigs, river stones and pebbles in a similar color and shape as in biotope. There are also some leaves on bottom of the aquarium to give a natural look of river flowing through the forest.
Description of equipment: For filtration I use 70 lit overflow sump filter with 3 chambers for filter media filled up with ceramic rings, aquarium filter sponges and clay, return pump is Sicce 1200 lit/h with flow control capability. Aquarium is heatet with 300W Jager Heater, lighting is LED tube T8 8W 3000 K + LED 3W 6500 K spot light.
Water parameters: Water temperature is 25 C (going to 28 -29C in the summer),
pH is 7.8
Additional info: Since the aqurium is open type, a couple of liters of water eveporates every day, so when the water level drops fresh water is pured.
Water changes are done every 2-3 weeks, 20% of water is changed and replaced with fresh water with addition of FFM
INFORMATION ABOUT BIOTOPE
Description of the area surrounding the biotope: Blue Creek is river located in Toledo, Belize. The river is of mixed flow, from rapids and waterfalls to deep pools of clear water and shallow forest areas. The river flows through the Indian village and rainforest of the same name (also known as Rio Blanco National Park) and flows into the Moho River.
Blue Creek is also the name of the rainforest lodge set five minutes walk upstream next to a small waterfall dropping into a deep pool of clear water. It's not surprising to see people from nearby Punta Gorda coming on Sundays to picnic and play in the river.
Further upstream is the Hokeb Ha Cave, with its large entrance carved from the summit of a hill where the Creek gurgles up from underground.
Description of the underwater landscape of the biotope: Underwater landscape of the river changes as the river flows from rapids and waterfalls to the rainforest parts, its subtrate consits of sand and fine gravel, yellowish, white and grey round stones of various size. As the part passes through the rainforest, many branches and other driftwood can be found in water.
Description of the parameters of the habitat: Water is clear, average temperature of 24 – 26 C, pH varies from 7,5 to over 8
List of fishes and invertebrates occurring in the nature biotope: Chiclids: Trichromis Salvini, Cryptoheros spilurus, Thorichthys aureus, Cribroheros robertsoni…
Non Cichlids: Poecilia mexicana, Xiphophorus Helleri, Gambusia luma…
List of plants found in the nature biotope: Didnt find any infos about plants in nature biotope, but I belive some Myriophyllum sp. can be find on some parts of river.
Threats to the ecology: –
Sources of information:
fish specs: https://www.gbif.org/; https://en.wikipedia.org/wiki/Blue_Creek,_Toledo,
Comments of the members of the jury of Biotope Aquarium Design Contest 2019